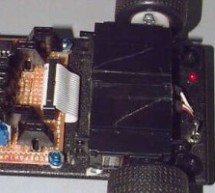 Design Goal: The TechBot1 is a small line following robot designed for for the 1998 Embedded Systems conference in San Jose California. It was built by Jerry Merrill and myself and was designed as a promotional robot that would follow a black line drawn on a dry erase board.   Motive Power: The TechBot1 uses 2 Cirrus CS-70 servos that have been modified for full rotation and have had their controller boards ...
Read more

›
I promised to post some of my past microcontroller vision projects. This one has a Microchip PIC directly sampling a video signal. 8 pins well used. Collapsible Quadruped Robot with Computer Vision, Laser Ranging, and Servo Control on a Single-Wire Network Photos and video capture by Glenn Currie. Download project design_files_PicVid97.zip. Austin Texas, 1997. I found a nice piece of aluminum and the Microc ...
Read more

›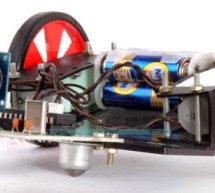 The rapid growth in science and technology offers several advantages of using integrated circuits, microprocessors, microcontrollers, embedded chips, etc., in designing electrical and electronics projects and circuits by reducing their size, cost, and complexity.  Using these embedded chips and microcontrollers is increasing due to its simplicity and benefits. The microcontrollers can be programmed to perfo ...
Read more

›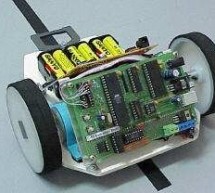 Usea C-52 EVB for simple robot experiments. Build a simple two wheels robotwith L293D H-Bridge driver and IR sensors. Write a C program controls robottracked with black tape. Fun with Ving-Peaw Competition 2543, course layout,day-by-day changed rule and scoring also included! Introduction One of my student has made a disgracefulrobot that used two stepper motors and with a simple IR sensor. Yes, abov ...
Read more

›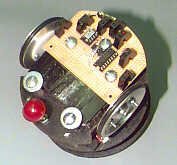 Design Goal: The JavaBot1 is a small line following robot designed to follow a black line drawn on a dry erase board. It is designed to follow very tight curves. The software still has lot's of room for improvement but works well as is. Motive Power: The JavaBot1 uses 2 Cirrus CS-70 servos that have been modified for full rotation and have had their controller boards removed to convert them from serv ...
Read more

›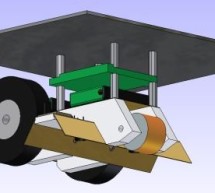 Robots look cooler when they have a sinister green glow. Better yet, when that glow exists for a functional purpose it's even better! Here I show how to make a custom robot and use LED's to not only enhance line following, but also make it work in the dark too. Step 1: The Mechanical Design First you need to design your robot. I designed mine using CAD, planning out the locations of all the parts carefully. ...
Read more

›
This robot is controlled by a visual basic program (through the serial port), and can move in three different velocities by a pulse width modulated (PWM) signal generated by a PIC microcontroller (16F877). The robot can be operated in two modes, "normal control" and "light tracker" modes. In the normal control mode, the robot can carry objects sized from 3 - 18 cm from place to another within 150 m. whereas ...
Read more

›
Make a very cheap, relatively easy to construct robot which will wake up any time you shine a desk lamp on it. There are no sensors on it, although I suppose the solar panel can be called a sensor. I plan on adding solar panels and another motor, and making it controlled by a PIC microcontroller in the future. Step 1: The Circuit The circuit for the robot is very simple, it has no digital electronics. It's ...
Read more

›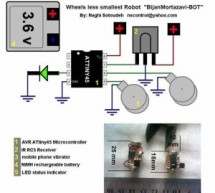 Vibrobots (and bristlebots) are simple robots that use a tiny pager / cellphone vibrator motor (with an eccentric weight) to randomly bounce around -- they are the subject of many Maker / DIY projects as well as some well-known commercial toys (such as the $7.00 Hexbug Nano).  Naghi Sotoudeh, a Hizook reader from Iran, contacted us about his latest project: a remote controlled micro-scale vibrobot (measurin ...
Read more

›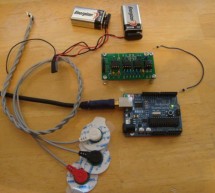 Measuring muscle activation via electric potential, referred to as electromyography (EMG) , has traditionally been used for medical research and diagnosis of neuromuscular disorders. However, with the advent of ever shrinking yet more powerful microcontrollers and integrated circuits, EMG circuits and sensors have found their way into prosthetics, robotics and other control systems. Yet, EMG systems remain ...
Read more

›