This is a very simple and accurate power guard circuit. This circuit is useful to guard the electronic or electrical devices from mains transients and spikes. Very high spikes can develop at power on due to sparking in the switch and more serious effects occur when power resumes after a power failure due to high magnetic field in the distribution transformer. This will damage your device permanently. To avo ...
Read more

›
I found several different magnetometer designs on Internet, but I tend to be very picky. None of those was what I needed - something that is sensitive enough to record the small magnetic field variations where I live (San Jose, California), robust enough to work for long periods of time without constant maintenance, and relatively easy to construct. Since the only place where I could permanently install the ...
Read more

›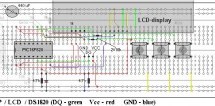 This simple project uses a Dallas DS1820 one wire temperature sensor and a pic 16f628 microprocessor. A simple temperature regulator where a LED symbolizes the Fan. Data derived from the DS18s20 is a 9bit centigrade temperature measurement. As mentioned the temperature sensor communicates over a one Wire bus that requires only one data line and ground for communication with a central microprocessor. The DS1 ...
Read more

›
This post would provide a working example of how to make a simple Current Meter (DCM) using 16bit PIC microcontroller and a series shunt resistance. We have very precise ammeter current measurement with a 10bit ADC and with a tolerance of ±10mA. You may download code and Proteus Simulation from the download section at the bottom of this post. I am using MPLAB X IDE, C30 Compiler and Proteus Simulation on v8 ...
Read more

›
In this article, I will discuss how to design digital ac watt meter using pic microcontroller. Lets start with basic introduction of watt meter. What is Watt meter? Watt meter is electrical device which is used to measure real power in AC circuits and total power in DC circuits. You may have used watt meter in electrical labs. Watt meter most frequently used in electrical labs for performing various lab tas ...
Read more

›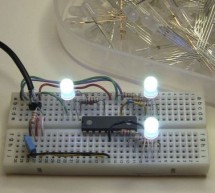 Quick & Easy RGB-LED Tester Have you ever built a project with a lot of LEDs, and found out that one of the LEDs was defective? Although it's somewhat rare, there are some defective LEDs when you go through hundreds of them. I found that RGB-LED have high defect rate, most likely due to the fact that each of them has three LEDs (R,G,B) in them. I have had a few situations where one of the RGB LEDs was n ...
Read more

›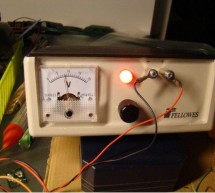 Introduction This project will describe how to make a simple digital voltmeter (DVM) using a PIC16F688 microcontroller. The range of this DVM is 0-20V, but you can easily increase or decrease the range of input voltage as your requirements after you understand the voltage scaling method described in this project. The PIC micro reads the input voltage through one of the 8 analog channels and convert it to a ...
Read more

›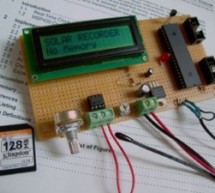 The device used for measuring daily insolation has been developed. The device was built with a PIC18F458 and the 128MB Multimedia Memory Card, MMC. The solar radiation is measured by a calculator solar cell. The PIC chip interfaces the MMC using SPI mode. The interval between samples is set to one minute. The firmware detects the memory card, assignes the file name and begins recording automatically. The LC ...
Read more

›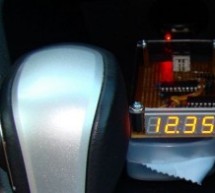 My 2010 Equinox has got every feature that a modern automobile should have. However, one thing that I personally find missing is the real-time monitoring of voltage across the car's battery terminals. This may not seem to be that important but one of the most common reasons for a car battery failure is the faulty charging system. If the charging system is not working properly, the battery will not get the p ...
Read more

›
Introduction: This describes my original design dual channel quantizer inspired by Chris List's ARP Style CV Quantizer design. My new implementation is an intelligent design that exploits the programmability of a Microchip PIC16F84. It will quantize voltages in 1/12 volt (semitone) or 1 volt (octave) steps from –10V to 10V. Quantization time is about 2ms per channel. Octave switches allow the user to select ...
Read more

›