I hope that you already go through our tutorial, Interfacing LCD with PIC Microcontroller – MPLAB XC8. HD44780 compatible controllers used in these LCDs allows us to define 8 custom characters in addition to the standard pre-programmed characters. In this tutorial we will learn, how to create custom characters on LCD using PIC Microcontroller and MPLAB XC8 compiler. DDRAM, CGROM and CGRAM CGROM – Character ...
Read more

›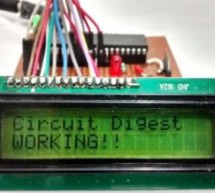 This is our sixth tutorial in our PIC Tutorial Series, in this tutorial we learn Interfacing of 16x2 LCD with PIC Microcontroller. In our previous tutorials we have learnt the basics of PIC using some LED blinking Programs and have also learnt How to use Timers in PIC Microcontroller. You can check here all the tutorials on Learning PIC Microcontrollers using MPLABX and XC8 compiler. [caption id="attachment ...
Read more

›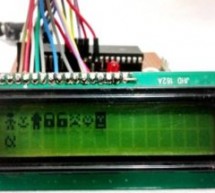 In our previous tutorial, we have learnt How to Interface a 16*2 LCD with PIC Microcontroller. We recommend you to go through it before going any further, if you are beginner in PIC microcontroller. Previously we have also learnt the basics of PIC using LED blinking Program and  Timers in PIC Microcontroller. You can check here all the tutorials on Learning PIC Microcontrollers using MPLABX and XC8 compiler ...
Read more

›
How to interface LCD (Liquid Crystal Display) display module to PIC microcontroller? LCD is a passive component, that is it does not make any light but just modifies the light passing through it for alphanumeric displays. LCD is exclusively manufactured to be used with microcontrollers, which means that it cannot be triggered by usual IC circuits. This embedded program shows how to connect PIC to LCD displa ...
Read more

›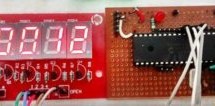 This is our 8th tutorial of Learning PIC microcontrollers using MPLAB and XC8. We have come up all the way from installing MPLABX to using a LCD with PIC MCU. If you are new here, then look at previous tutorials where you can learn timers, blinking LED, interfacing LCD etc.. You can find all our PIC Tutorials here. In our last tutorial we saw how we can generate Custom characters with our 16*2 LCD display, ...
Read more

›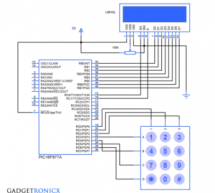 Interfacing LCD and Keypad are one of the important interfacing concepts of PIC microcontroller since both the input and output element can form a complete embedded system design. This tutorial is about teaching you how to get input input values from keypad by polling method and display the input into a 16×2 LCD. 16×2 LCD: This type of LCD is widely used to display the status of the system and to display th ...
Read more

›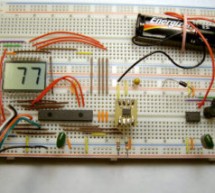 This project is one another thermometer application that uses the TCN75A digital sensor from Microchip. The sensor provides digital temp conversion in the range -40°C - 125°C (-40°F - 257°F) and has maximum resolution 0.0625°C. However, the LCD that I used (2.5 digits model LCD-S2X1C50TR manufactured by Lumex) only works reliably in the temperature range 0 - 50°C, so the code is adjusted for this range only ...
Read more

›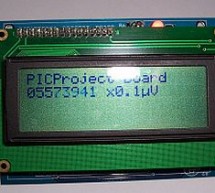 The new PIC18F2550 Project Board was designed as the development platform for student projects. The board features MCU: PIC18F2550 with external xtal, ADC: one channel 0-2.5V sigma-delta converter, Linear Technology LTC2400/LTC2420, 6-channal 10-bit ADC 0-5V, Display: Two connectors for text LCD or GLCD, USB: onchip USB port with type B connector, Power supply: onboard low dropout regulator, rechargeable ba ...
Read more

›
This post provides the LCD[1] interfacing code using PIC12F675 microcontroller. This code is written in C language using MPLAB with HI-TECH C compiler. You can download this code from the 'Downloads' section at the bottom of this page. It is assumed that you know how to make an LED blink with PIC12F675 microcontroller. If you don't then please read this page first, before proceeding with this article. PIC12 ...
Read more

›
Introduction HD44780 based character LCDs require at least 6 I/O lines from microcontroller to display data. Therefore, they are not suitable for low-pin microcontrollers like PIC12F series microchips. In this project, I am going to show how to drive an HD44780 based LCD display with only 3 pins of a microcontroller. I am going to demonstrate it with PIC12F683 microchip. The character data and command from ...
Read more

›