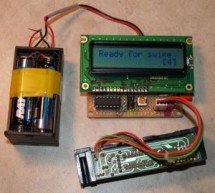 The HandySwipe provides a portable magnetic card reader interface and display. It collects card data from a "Type 2″ card reader (shown here), and displays the data on a small character LCD screen. Type 2 stripes are by far the most common in use, such as on credit cards and drivers' licenses. The device can store up to 50 cards, runs on four AA's, and has a serial connection to download its memory to your ...
Read more

›
How to interface LCD (Liquid Crystal Display) display module to PIC microcontroller? LCD is a passive component, that is it does not make any light but just modifies the light passing through it for alphanumeric displays. LCD is exclusively manufactured to be used with microcontrollers, which means that it cannot be triggered by usual IC circuits. This embedded program shows how to connect PIC to LCD displa ...
Read more

›
Circuit schematic PCB HEX code, V1.11 (operates with 4,000 MHz quartz) Hex code, V1.12 (operates with 4,1943 MHz quartz) PIC config bits Photo - Top view Photo - Bottom view Photo - Latest PCB version with TO-92 style 78L05 housing - Top view (132 kbyte) Photo - Latest PCB version with TO-92 style 78L05 housing - Bottom view (138 kbyte) This is a successor of the PIC16C71 4-digit LED f-counter & ...
Read more

›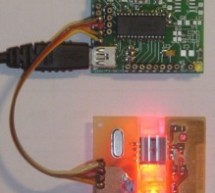 This is an example USB project showing how to interface an optical mouse sensor (the ADNS-2620) with a standard XP/Vista computer. The TD-USB-01 board with a PIC18F2550 communicates with: the PC: USB 2.0 through a mini-B connector. the mouse sensor board: SPI over 4-wire flatcable. Here are the technical specifications: PC Win XP/Vista interface application with Visual C# 2008 Express: free download. TD-USB ...
Read more

›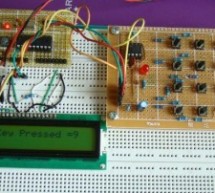 Keypads are a very commonly used input device in microcontroller-based systems. In a keypad, multiple switches are arranged in rows and columns so that they could be interfaced to a microcontroller with a minimum number of I/O pins. For example, a 12-key keypad is arranged in a 4×3 format, which allows to interface the 12 keys to a microcontroller with only 7 connections. The location of each key on the key ...
Read more

›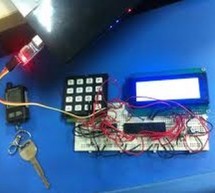 Matrix keypads are very useful when designing certain systems which needs user input. These keypads are constructed by arranging push button switches in rows and columns as shown in Fig.1. Scanning keypad to detect pressed keys involves several steps and there are several methods to achieve this. The method presented here is capable of detecting more that one key press at time and encode that information in ...
Read more

›
Intro: How to use a 74HC595 Shift Register with a AVR ATtiny13 If you have been playing with microcontrollers and electronics then you have likely seen LED dot matrix displays and other projects that use shift registers like 7-segment displays and more. This instructable goes over a quick intro to the 74HC595 8-Bit Serail to Parallel Shift Register with Latch and how to interface it to an AVR ATtiny13 to fl ...
Read more

›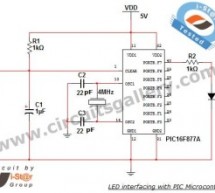 How to interface LED with Microchip's PIC microcontroller? How to connect LEDs to a PIC microcontroller? LED interfacing is the stepping stone for microcontroller development. This is a simple embedded program for PIC 16F877A to interface LEDs, suitable for beginners who wish to study basics of embedded microcontroller programming. The program is developed through Micro C compiler, one of the best solutions ...
Read more

›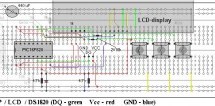 This simple project uses a Dallas DS1820 one wire temperature sensor and a pic 16f628 microprocessor. A simple temperature regulator where a LED symbolizes the Fan. Data derived from the DS18s20 is a 9bit centigrade temperature measurement. As mentioned the temperature sensor communicates over a one Wire bus that requires only one data line and ground for communication with a central microprocessor. The DS1 ...
Read more

›
$15.00 BASIC Computer? Imagine a microcontroller that you can connect a serial terminal up to to get an ok prompt? What would happen if you changed one of the control registers can I see the effect straight away? Is it really possible to download programs onto this chip from the Internet and run them? Can I create a program and have it run at reset? Do I only need a serial link and two capacitors to get the ...
Read more

›