Source Code for PIC16F84 and CD4511 decoder Also, there is an updated version with NPN drivers replacing the 4511 and many new features by Brendon Archibald [websales   optusnet.com.au] DARKROOM TIMER The purpose of this project is to present a device that is useful and at the same time demonstrate to the beginner many features involved in programming the PIC. Some of the topics included are: * Simple use o ...
Read more

›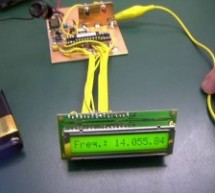 Caption (copied from the NorCal meeting listed in the links below): IK3OIL Frequency counter built by Wayne McFee.  This is from IK3OIL's web site, and the cost of the counter was about $2, minus the display, which was about $7.  Wayne got the source was www.shopeio.com.  They are located in Gardenia, California. Design and Code by Francisco IK3OIL This frequency counter was mentioned on the QRP-L mailing l ...
Read more

›
2. Counter The whole counter design is based on the PIC micro-controller 16F876A. The latter includes several peripherals and just a few of them are used in this project. The most important in this project are two internal, hardware counters/timers called TMR0 and TMR1. The TMR0 timer generates very precise interrupts every 100 microseconds (10kHz) from the 20MHz clock/reference. All required timings for th ...
Read more

›
It's a kitchen timer. Use it to time spaghetti, or maybe an egg. It uses two PICs, one acts as a keyboard encoder, the other drives the display and supports the timer functions. You key in the desired time and press '#'. It's accurate to 1/100th of a second, which can make all the difference I'm sure you'll agree. You can buy something similar to this from Denkimono. Operation: The PIC16F84 doesn't have eno ...
Read more

›
This LED clock may not be the easiest to build but surely it is the one with fewer parts that you can find, for that reason I call it "The ANP LED Clock". (ANP stands for Almost No Parts.) Using the micro controller PIC 16F84A or the 16F628 (same pinout), this clock have more and improved features than my previous LED Clock. Here are the features on this ANP LED Clock: Can use common cathode or common anode ...
Read more

›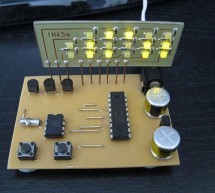 LED Binary Clock This is the second revision of my PIC based LED binary clock. The original version was the first PIC project I attempted, it used a PIC16F84A to do both the timekeeping and control the display matrix, unfortunately it didn't keep good enough time and gained about a minute every week. This second version is based around a PIC16F628A running at 4MHz to control the display, it also uses a DS13 ...
Read more

›