Oftentimes, developing an end application is like a scary game of maze. One can easily get lost in its winding paths lined with unseen twists and obstacles. A wrong choice can lead you to start all over again , making the journey grim, and the goal out of reach.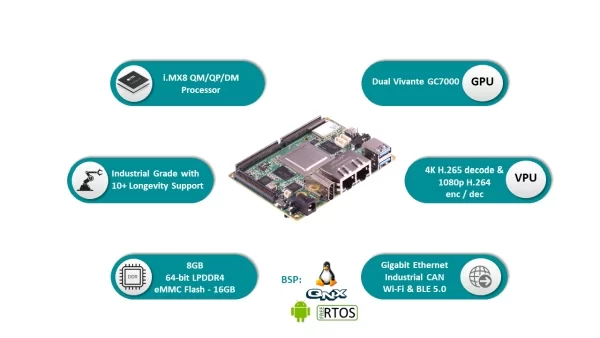 For developers, the challenges are real and huge, turning the development process into a difficult chase to fulfill performance and time to market objectives while achieving customer expectations as well.
From prototype, integration to development, there are multitude of bottlenecks lurking in every path. With so many design challenges to overcome, developers often find it hard to integrate cutting edge technologies in their end applications and optimize their designs with the best performance and features.
At iWave, we are poised to ease these challenges and turn them into opportunities for innovation. A win – win situation for all.
And that's the reason we have launched a new SBC, powerful enough to address even the most pressing development challenges and help transform your ideas into a stunning reality. The SBC is the fourth addition to our growing portfolio of NXP® i.MX based single board computers – high efficiency industrial platforms superior in performance.
Powered by NXP i.MX8 Processor, the iWave SBC is equipped with upto eight Armv8 64-Bit heterogeneous CPU cores (2 x Arm® Cortex®– A72, 4 x Arm® Cortex®-A53 & 2 x Arm® Cortex®-M4F).It highlights the extremely powerful computational capability of the SBC, making it an awaited platform for unleashing complex to implement applications with utmost efficiency and ease. Advanced use cases include High-Speed Networking , Edge Computing , Industrial Automation ,4K imaging , e–Cockpit, Intelligent Data Centre, etc.,
Read more: POWERFUL NEW SBC TO EASE DEVELOPMENT CHALLENGES AND ACCELERATE INNOVATIONS