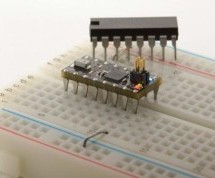 View 1: OSHChip_V1.0 is a unique combination of ARM Cortex-M0 32 bit processor running at 16 MHz 2.4 GHz Bluetooth Low Energy radio Broad range of built-in Peripheral functions 256 KBytes of Flash memory for program and data 32 KBytes of SRAM Miniature packaging, compatible with bread board construction Support for in-system debugging including breakpoints The most striking thing you see is that it is the s ...
Read more

›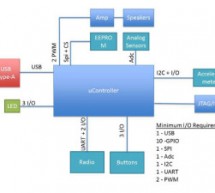 Selecting the right microcontroller for a product can be a daunting task. Not only are there a number of technical features to consider, there are also business case issues such as cost and lead-times that can cripple a project. At the start of a project there is a great temptation to jump in and start selecting a microcontroller before the details of the system has been hashed out. This is of course a bad ...
Read more

›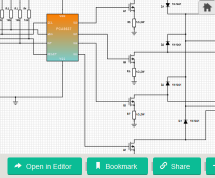 This unipolar stepper motor driver circuit is used to drive a 12V unipolar stepper motor with a current rating of 1.25A. It uses PCA9537 IC, which is a 10-pin CMOS device that provides 4 bits of General Purpose I/O (GPIO) expansion with interrupt and reset for I2C-bus/SMBus applications. It consists of a 4-bit configuration register (input or output selection), 4-bit input port register, 4-bit output port r ...
Read more

›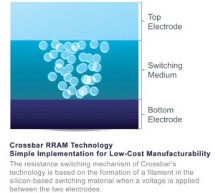 Crossbar, the RRAM specialist, says it has solved a major obstacle to RRAM's commercialisation – what Crossbar calls 'sneak path current' which is akin to leakage in CMOS circuits but particularly destructive in RRAMS. This, breakthrough, says a Crossbar press release: "Signals Crossbar's 3D RRAM readiness for commercialisation of Terabyte storage-on-a-chip." So how far away from production is an 8Tbit memo ...
Read more

›

This simple circuit designed around Solid State Relay S216S02 from SHARP. The S216S02 solid State Relay (SSR) is an integration of an infrared emitting diode (IRED), a Phototraic Detector and a main output Traic. These devices are ideally suited for controlling high voltage AC loads with solid state reliability while providing 4KV isolation from input to output. A solid-state relay (SSR) is an electronic sw ...
Read more

›
RF Probe Today I finally got round to building a nice little RF probe kit from Rex, w1rex, the Tuna King over at QRPme. I took the well-executed PCB which - unusually for Rex - had through hole mounting for the components rather than the 'Limerick' construction that recently I've come to associate with him... Following the excellent instructions, I whittled away the PCB at the business end, to make the prob ...
Read more

›
Description The MAX30102 is an integrated pulse oximetry and heart-rate monitor biosensor module. It includes internal LEDs, photodetectors, optical elements, and low-noise electronics with ambient light rejection. The MAX30102 provides a complete system solution to ease the design-in process for mobile and wearable devices. The MAX30102 operates on a single 1.8V power supply and a separate 5.0V power suppl ...
Read more

›
Crocus, the magnetically enhanced IC specialist, has prototyped a bendable display using flexible sensors and is looking for applications and customers for it. "Crocus has created a new IP based on magnetic sensors for flexible surface position detection. This enables equipment makers to gain in the added performance of flexible shape devices, while reducing costs," says Crocus CEO Bertrand Cambou, "we anti ...
Read more

›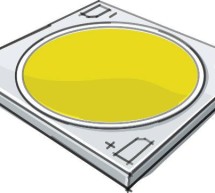 In a long-needed move, LED standards body Zhaga has picked up the baton and started work on a specification for chip-on-board (CoB) LED arrays. A Zhaga Book will specify a family of six rectangular or square LED modules with different dimensions. The rest of the content is still being discussed (see below). CoBs are becoming the standard LED light source for luminaire makers that don't have access to surfac ...
Read more

›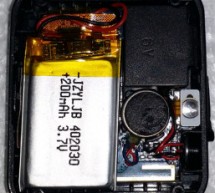 With the battery and the speaker pulled back we can see a MediaTek MT6261 SoC and supporting components on the left. On the right are connections for the reset button (mounted on top of the usb connector), speaker and what I assume is a vibrator motor connected to 'VIB'. The touchscreen is also connected at the top, with it's controller mounted on the flat flex cable. The home/power button is tucked in on t ...
Read more

›