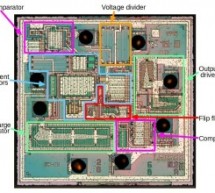 This article explains how the LMC555 timer chip works, from the tiny transistors and resistors on the silicon chip, to the functional units such as comparators and current mirrors that make it work. The popular 555 timer integrated circuit is said to be the world's best-selling integrated circuit with billions sold since it was designed in 1970 by analog IC wizard Hans Camenzind[1]. The LMC555 is a low-powe ...
Read more

›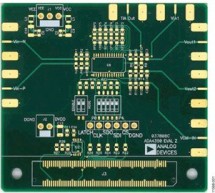 Analog Devices has introduced a  FET input AFE (analog front-end) with an integrated ADC driver designed to interface directly with current mode sensors such as photo diodes and highoutput impedance-voltage sensors. The ADA4350 integrates a FET input amplifier, switching network and ADC driver into a single package, which simplifies design and lowers power and PCB footprint by more than 50 percent compared ...
Read more

›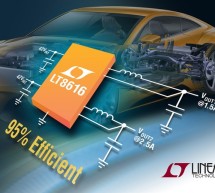 Features Wide Input Voltage Range: 3.4V to 42V 2.5A and 1.5A Buck Regulators with Separate Inputs Fast Minimum Switch On-Time: 35ns Ultralow Quiescent Current Burst Mode® Operation: 6.5μA IQ Regulating 12VIN to 5VOUT and 3.3VOUT Output Ripple < 15mV 180° Out of Phase Switching Adjustable and Synchronizable: 200kHz to 3MHz Accurate 1V Enable Pin Thresholds Internal Compensation Output Soft-Start and Track ...
Read more

›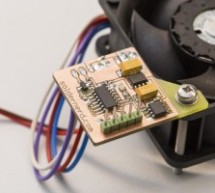 I'm currently mainly working on my new anemometer design but once in a while I get distracted. For example when my Keysight E3645A lab power supply was making so much noise that I could hardly concentrate. That's when the idea of this fan controller was born.Of course, the best temperature controlled fan in the world doesn't help if you really need the cooling the fan is providing. But very often a small fr ...
Read more

›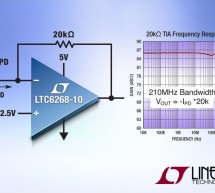 Features Gain Bandwidth Product: 4GHz Low Input Bias Current: ±3fA Typ. Room Temperature 4pA Max at 125°C Current Noise (100kHz): 7fA/√Hz Voltage Noise (1MHz): 4.0nV/√Hz Extremely Low CIN 0.45pF Rail-to-Rail Output AV ≥10 Slew Rate: +1500V/μs, –1000V/μs Supply Range: 3.1V to 5.25V Quiescent Current: 16.5mA Operating Temp Range: –40°C to 125°C Single in 8-Lead SO-8, 6-Lead TSOT-23 Packages Dual in 8-Lead MS8 ...
Read more

›
Current Sensing Switch is designed to operate a Relay Contact when there is a DC current through the sense resistor exceeds the set point, Set point adjustable from 1A to 3Amp using on board potentiometer. This circuit can offer over current protection to your project. Specifications Input: 12 VDC Range: 1 to 3 A selectable with onboard preset Output: SPDT Relay (Normally Open & Normally Closed) Power B ...
Read more

›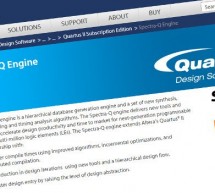 Altera's Spectra-Q software aims to accelerate design time for its Quartus II software for programmable devices. Spectra-Q has faster algorithms and allows for incremental design changes without needing to perform a full design compile It has a hierarchical database that enables users to preserve placement and routing information of IP blocks while making changes in other parts of the design.This helps ensu ...
Read more

›
Capacitors    Capacitors are two-terminal components used for filtering, energy storage, voltage spike suppression, and many other applications. In their simplest form, they consist of two parallel plates separated by an insulating material called a dielectric. Capacitors store electrical charge. The unit of capacitance is Farad (F), attributed to Michael Faraday who was a pioneer in using capacitors for pr ...
Read more

›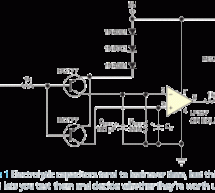 How to use this When the simulator starts up you will see an animated schematic of a simple LRC circuit. The green colour indicates positive voltage. The grey colour indicates ground. A red colour indicates negative voltage. The moving yellow dots indicate current. To turn a switch on or off, just click on it. If you move the mouse over any component of the circuit, you will see a short description of that ...
Read more

›
ARM's acquisition of Wicentric and Sunrise Micro Devices has produced the Cordio family of standards-based, sub-volt, radio IP supporting Bluetooth Low Energy. Each Cordio product includes a pre-qualified, self-contained radio block, related link layer firmware, stack and profiles along with guidelines for design, test, integration, qualification, and application development.Cordio aims at ease of integrati ...
Read more

›