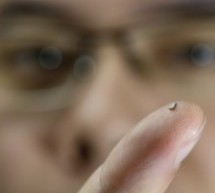 Researchers at TU/e have developed a very tiny wireless temperature sensor that is powered in a very special way: from the radio waves that are part of the sensor's wireless network. This means that the sensor needs not even a single wire, nor a battery that would have to be replaced. The arrival of such sensors is an important development on route towards smart buildings, for instance. But the applications ...
Read more

›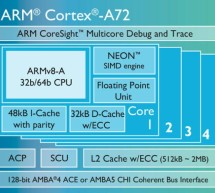 ARM has brought out a set of IP for top-of-the-range  mobile devices due to launch next year. The IP suite includes: an ARMv8-A-based Cortex-A72 processor, an ARM CoreLin CCI-500 Cache Coherent Interconnect and an ARM Mali-T880 GPU delivering up to 4K120fps performance and console-class gaming, all optimised for TSMC's 16nm FinFET+ process with ARM POP IP. "Our new premium mobile experience IP suite with th ...
Read more

›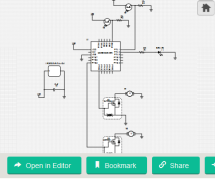 The Minibot is a small autonomous robot vehicle that uses phototransistor that can detect lightness patterns on the ground to follow the edges of the dark lines. It has a MC9RS08KB4 MCU, coin cell, motor, and a phototransistor. The MC9RS08KB4 is part of the MC9RS08KB12 series, a family of RS08KB 8-bit microcontrollers. It features a 4KB flash size, 14 to 18 I/O pins, 8 to 12 channels of ADC, and a 126 RAM s ...
Read more

›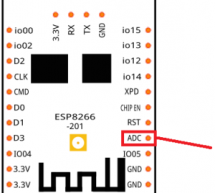 In this project we are going to establish a wireless communication between two ESPs and send data from three sensors to an Excel spreadsheet. This tutorial shows a wireless weather station with data logging that you can implement in your home. Before you continue reading this project, please complete the following tutorials:  How to get started with the ESP8266 How to make two ESP8266 talk How to flash your ...
Read more

›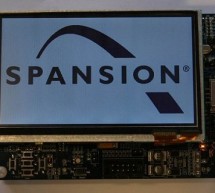 Spansion has added two more ARM Cortex-M4-based microcontrollers to its portfolio: the FM4 S6E2DH with an integrated graphics display controller and the S6E2CCxxF/MB9BF568F with self-contained voice command control. "These new product families enable customers to design intuitive next generation human machine interface (HMI) systems," says Spansion's Dhiraj Handa.The S6E2DH combines an ARM Cortex-M4 core ba ...
Read more

›
The goal of this project is to learn as much as possible about the Zsun WiFi card reader and run OpenWrt on it to turn it into an awesome wifi device. UPDATE 2016-04-23 The new PCB is missing a jumper on the RX serial line, see serial port section UPDATE 2016-03-16 The second PCB revision has identical software and hardware (apart from optimized minor component layout), flashing works the same UPDATE 2016-0 ...
Read more

›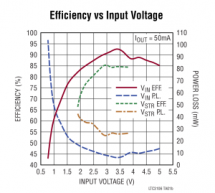 Features Dual Input Buck-Boost with Integrated PowerPath™ Manager Ultralow Start-Up Voltages: 850mV Start with No Backup Source, 300mV with a Backup Source Compatible with Primary or Rechargeable Backup Batteries Digitally Selectable VOUT and VSTORE Maximum Power Point Control Ultralow Quiescent Current: 1.6μA Regulated Output with VIN or VSTORE Above, Below or Equal to the Output Optional Backup Battery Tr ...
Read more

›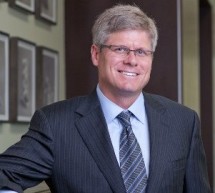 Qualcomm is dropping ARM for its next top-of-the-range mobile processor. "With the 810 (Snapdragon 810) we made a conscious decision to use licensed cores to accommodate the accelerated shift to 64 bit," says Qualcomm CEO Steve Mollenkopf, "our next premium processor will use our own 64 bit custom CPU architecture as well as the most advanced process node."The new processor will be, says Mollenkopf "a devic ...
Read more

›
It has been a while since i posted my Tinker Rule which i made during college days. I received a few requests for the ready to etch pdf which helped me gauge if this seemed to be useful to people. The response was somewhat positive and so, i decided to put in some extra effort and make it handy, portable and manufacturable ! My initial scale was big and not handy, So, this one should be small and compact an ...
Read more

›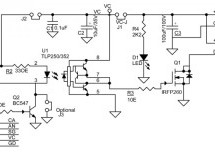 DC Output Solid State Relay 10Amps 60V DC (Optically Isolated Input) This project has been designed around TLP250/352 which is Opto-Coupler IGBT/MOSFET Gate Driver from Toshiba and Mosfet IRFP260 from IR, This relay consists of optically isolated gate driver and low impedance Mosfet. The combination of low resistance and high load current handling capabilities make this Relay suitable for a variety of switc ...
Read more

›