News about 1mbit Spi Fram Comes In Chip Scale Packaging
Fujitsu has used an ultra small package for this memory part, which it presents as a solution for power-critical miniature applications in sensor and wearable markets.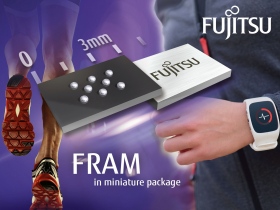 The 1Mbit SPI FRAM is in an 8-pin wafer level chip scale package (WL-CSP) which is an additional package variant to the existing product MB85RS1MT. In comparison to the industry standard SOP-8 package, the new WL-CSP package, which measures 3.09 x 2.28 x 0.33 mm, reduces the surface mounting area by 77%, and the device height by 80%.
For more detail: News about 1mbit Spi Fram Comes In Chip Scale Packaging
Project Ratings:
Related posts