Mini-Tablesaw / Router / Shaper for Dremel rotary tool
Mini – Table Saw / Router / Shaper
for Dremel rotary tool.
 Now that the Dremel contest voting is over I guess it's ok to update this instructable. Here is a "supplement" video showing the table saw extension in action. 🙂
am attaching a PDF that includes the templates I made for this project.  Open the PDF and save it to your computer.
Print out the templates (I suggest using 100 pound card stock for the templates).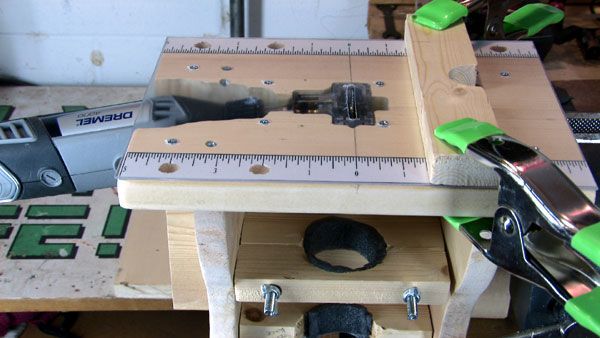 MAKE SURE… that you select None in the Page Scaling option when printing!
If you fail to do this the printer will scale the pages to a different size and the templates will not be correct.
Dremel_TablesawRouterShaper_plans.pdf8 MB
Step 2: Material Supply
You will need a Dremel rotary tool (obviously)…
I purchased the 4000-5/36H from Home Depot which has 5 attachments and 36 accessories for $99.00!  This is by far one of the best deals available for the Dremel products.  I highly reccomend it.
Material Supply:
1 – 1x8x4 (I used top choice whitewood board)
1 – 1x2x4 (I used top choice whitewood board)
2 – Optix 8×10 acrylic sheet (.080" thick)
1 bag – 3/4" two hole pipe strap – (sold in bags of 4)
2 – 1/4"x 4-1/2" bolts
1 bag – 1/4" wing nuts – (sold in bags of 4)
1 section – 3/4" foam pipe insulation (sold in 6ft sections)
2 bags – Wood screw – #6 x 1-1/2" – (sold in bags of 10)
1 bag – Wood screw – #4 x 5/8" – (sold in bags of 12)
2 – 2" Spring Clamp
Attachments/Accessories/Tool List:
Dremel Rotary Tool (templates were designed for model 4000 but can be modified to fit any model)
Dremel – Mini Saw Attachment (model 670)
Dremel – Sanding Drum (either model 407 or 470 will work for this application)
5/32" Drill Bit
5/64" Drill Bit
7/64"Drill Bit
1/4" Drill Bit
Phillips screw driver
Elmers glue
Utility knife (or other razor)
Optional Dremel Attachments/Accessories:
(only needed if you plan to build this project *exclusively with a Dremel Rotary Tool)
Dremel – Plunge Router Attachment (model 335-01) "OR" Multi Purpose Cutting Kit (model 565)
Dremel – Circle Cutter and Straight Edge Guide (model 678-01)
Dremel – Brad Point Drill Bit Set (model 631-01)
*Note: the top plate cover screws require a tapered 1/4" counter sink. The Dremel Brad Bits are not tapered and Dremel does not currently make a tapered 1/4" drill bit with a 1/8" shank. This will require the need for an additional drill (preferably drill press) that can handle standard 1/4" drill bits or 1/4" tapered counter sink bits.
For more detail: Mini-Tablesaw / Router / Shaper for Dremel rotary tool
Current Project / Post can also be found using:
dremel mini table saw plans
dremel table saw designs
pdf for mini table saw
Project Ratings:
Related posts