Microchip expands RF power amplifier portfolio
The SST12LP18E is a versatile power amplifier based on the highly-reliable InGaP/GaAs HBT technology. The SST12LP18E is a 2.4 GHz high-efficiency Power Amplifier designed in compliance with IEEE 802.11b/g/n/ac applications. It typically provides 25 dB gain with 32% power-added efficiency, while meeting 802.11g spectrum mask at 21.5 dBm. The SST12LP18E can be configured for high-linearity for 802.11ac operation or for high-power, high-efficiency operation. This power amplifier also features easy board-level usage along with highspeed power-up/down control through a single reference voltage pin and is offered in a 8-contact XSON package.
Features
High gain:– Typically 25 dB gain across 2.4~2.5 GHz
High linear output power:– >26 dBm P1dB- Single-tone measurement– Meets 802.11g OFDM ACPR requirement up to 21.5 dBm– Meets 802.11b ACPR requirement up to 22.5 dBm– ~3% added EVM up to 18 dBm for 54 Mbps 802.11g signal– 17 dBm at 1.8% EVM, 802.11ac, 256 QAM, 2.4 GHz
High power-added efficiency/Low operating current for 802.11b/g/n applications– ~32%/135 mA @ POUT = 21.5 dBm for 802.11g– ~36%/150 [email protected] = 22.5 dBm for 802.11bApplications
WLAN (IEEE 802.11b/g/n/ac)DS75008
Home RF
Cordless phones
2.4 GHz ISM wireless equipment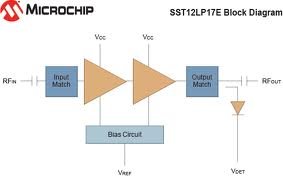 SST, a division of Microchip, has announced two 2.4GHz InGaP/GaAs RF power amplifier modules.
SST12LP17E is dc coupled and has 50? matching built in.
At 2x2x0.45mm, the 8pin QFN "is the smallest fully-matched power amp in its class, requiring only one DC bypass capacitor", claimed Microchip.
Designed for 802.11b/g/n applications, its typically provides 29dB gain with
28% power-added efficiency, and meets the 802.11g spectrum mask at 21.5dBm.
SST12LP18E is in the same package, with no matching, and is pitched as a cheaper and lower-voltage alternative to the firm's SST12LP14E. "It offers the lowest operating voltage of any Microchip RF power amp over an operating range of -20 to +85°C," said the firm.
It will operate with a reference voltage of 2.7V, although it is specified at 3.3V – for 25dB typical gain with 32% power-added efficiency.
SST, known as the RF division ('RFD') within Microchip, was acquired in early 2010 and is operated as a separate group from the main company.
Microchip it self has been making RF peripheral chips for its microcontrollers for many years, aiming at embedded wireless, using 2.4GHz and the sub-1GHz ISM bands, rather than cellular or satellite comms.
For more read:  Microchip expands RF power amplifier portfolio
Project Ratings:
Related posts