Description
The MAX31865 is an easy-to-use resistance-to-digital converter optimized for platinum resistance temperature detectors (RTDs). An external resistor sets the sensitivity for the RTD being used and a precision delta-sigma ADC converts the ratio of the RTD resistance to the reference resistance into digital form. The MAX31865's inputs are protected against overvoltage faults as large as ±50V. Programmable detection of RTD and cable open and short conditions is included.
Key Features
Simple Conversion of Platinum RTD Resistance to Digital Value
Handles 100Ω to 1kΩ (at 0°C) Platinum RTDs (PT100 to PT1000)
Compatible with 2-, 3-, and 4-wire Sensor Connections
Conversion Time: 21ms max
15-Bit ADC Resolution; Nominal Temperature Resolution 0.03125°C (Varies Due to RTD Nonlinearity)
Total Accuracy Over All Operating Conditions: 0.5°C (0.05% of Full Scale) max
±50V Input Protection
Fully Differential VREF Inputs
Fault Detection (Open RTD Element, RTD Shorted to Out-of-Range Voltage, or Short Across RTD Element)
SPI-Compatible Interface
20-Pin TQFN Package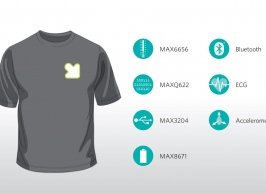 Maxim is staking its future on integrated analogue in the belief that sales of analogue SoCs will overtake discrete analogue sales within two years.
Asked by EW what integrated analogue means, Maxim responded: 'Analogue has traditionally been divided into four discrete technologies –amplifiers, data conversion, interface and power management. Analogue integration combines these technologies into a single chip, which also includes microcontrollers and small amounts of memory in order to solve system-level problems in a single piece of silicon.''
Pursuing its strategy of integrated analogue, Maxim has introduced five SoCs for factory automation and automotive applications.
One of the two factory automation products, the MAX78638, addresses 3-phase motor energy measurement and diagnostics. It contains a microcontroller, compute engine, ADC and flexible and configurable sensor interfaces that allow for the measurement of current, voltage, speed, vibration, position, and temperature. The ADC claims a less than 0.5% energy calculation error compared to the 5% of a standard microprocessor solution.
The other factory automation product, the MAX31865 is an RTD-to-digital converter, a single-chip claiming to lower cost by up to 50% and solve the common industrial design problem of digitising a platinum RTD (such as a Pt100 or Pt1000) resistance.
For more read: Maxim bets its shirt on integration