Toradex, a Swiss embedded technology firm announced the world's first embedded board built on NXP's i.MX8M QuadMax back in Mar. 2017. Recently, Toradex has opened early access for selected customers to the SODIMM-style Apalis iMX8 module. A sign-up form offers the potential for newcomers to get an early look.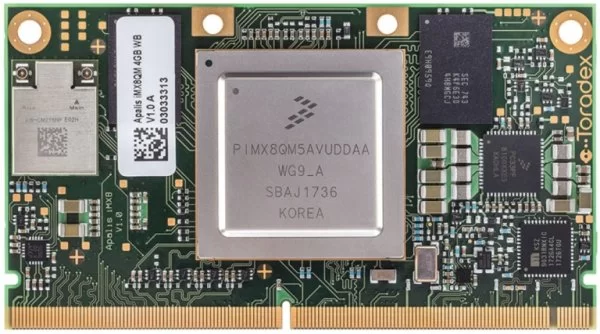 This new Linux powered, wireless-enabled Apalis iMX8 uses the QuadMax, which is the most powerful i.MX8 Quad model. Like the Quad and QuadPlus, it offers 4x 1.26GHz Cortex-A53 cores, 2x 266MHz Cortex-M4F cores for real-time processing, one or two Vivante GC7000LiteXS/VX GPUs, and a HIFI4 DSP. The QuadPlus adds a 1.6GHz Cortex-A72 core, and the Apalis i.MX8's QuadMax provides two -A72 cores. The module supports up to 4 GB LPDDR4 RAM.
The Cortex-A cores run a "Yocto Project" based Linux distribution provided via a BSP (Board Support Package). The M4F MCU cores run FreeRTOS which is also provided by the same BSP. With its dual GPUs, the Apalis iMX8 supports multiple-screen automotive installations. However, the module is designed for a broader range of cutting-edge computer vision systems, as well as signal processing and HMI applications. The module offers onboard, dual-band 802.11ac WiFi, and the dual-mode Bluetooth module is said to be Bluetooth 5.0 ready.
The module is equipped with 2x PCIe Gen 3 interfaces, 3x CAN, 4x SPI, 7x UART, and 8x analog inputs. The I2C count has increased to 7x, and the PWM count has advanced to 6x. You also get an IrDA connection, up to 133 GPIOs, and 8- and 4-bit SDIO/SD/MMC interfaces. The Apalis iMX8's SATA interface has moved from SATA II to III. As before, there's a GbE (Gigabit Ethernet) controller with a second RGMII. You get a USB 3.0 host interface, and 3x USB 2.0 host ports, one of which is OTG.
Read more: Linux Powered Apalis iMX8 SoM Built On NXP's QuadMax