PIC Microcontroller Step by Step: Your complete guide. You will enter Microcontroller world of wonders, and together we will make YOU a professional Microcontroller Geeks. visit: http://pic-microcontroller.com/online-courses-learn-pic-microcontroller-programming/ ...
Read more

›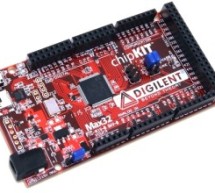 In order to understand the chipKIT platform, it is important to talk about Arduino first. Arduino is an easy-to-use and powerful open source environment for developing microcontroller based applications.Chipkit Development Board It has gained huge amount of popularity in past few years, specially among hobbyists. Arduino has been a wonderful tool, introducing many people to the world of embedded electronics ...
Read more

›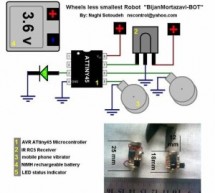 Vibrobots (and bristlebots) are simple robots that use a tiny pager / cellphone vibrator motor (with an eccentric weight) to randomly bounce around -- they are the subject of many Maker / DIY projects as well as some well-known commercial toys (such as the $7.00 Hexbug Nano).  Naghi Sotoudeh, a Hizook reader from Iran, contacted us about his latest project: a remote controlled micro-scale vibrobot (measurin ...
Read more

›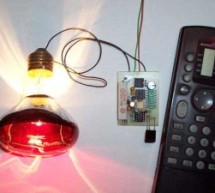 The meaning from this design is to build it in -i.e. a shaded lamp- and to switch this lamp on and off the normal way, just like it was switched before the dimmer was build in, then you could by exception dimming the lamp more or less with your TV remote control. When you switch the power on there will follow a soft-start till the lamp burns at the previously adjusted dim level. With the '0' button in TV mo ...
Read more

›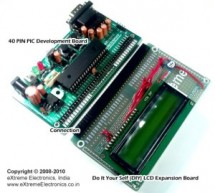 The are many cool sensors available now a days, ranging from IR distance sensor modules, accelerometers, humidity sensors, temperature sensors and many many more(gas sensors, alcohol sensor, motion sensors, touch screens). Many of these are analog in nature. That means they give a voltage output that varies directly (and linearly) with the sensed quantity. For example in LM35 temperature sensor, the output ...
Read more

›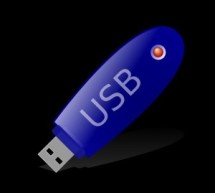 Introduction This page describes a project a colleague and I completed between September, 2000 and March, 2001 as part of the Engineering Physics degree program at the University of British Columbia.   In summary this project involved building a USB device using the PIC 16C745 microprocessor from Microchip.  The USB device consisted of a microphone, the microprocessor and other hardware and the device sent ...
Read more

›