Fastest 18-Bit SAR ADC unveiled
The AD7960 is an 18-bit, 5 MSPS charge redistribution successive approximation (SAR), analog-to-digital converter (ADC). The SAR architecture allows unmatched performance both in noise and in linearity. The AD7960 contains a low power, high speed, 18-bit sampling ADC, an internal conversion clock and an internal reference buffer. On the CNV± edge, the AD7960 samples the voltage difference between the IN+ and IN− pins. The voltages on these pins swing in opposite phase between 0 V and 4.096 V/5 V. The reference voltage is applied to the part externally. All conversion results are available on a single LVDS self-clocked or echo-clocked serial interface.
The AD7960 is available in a 32-lead LFCSP (QFN) with operation specified from −40°C to +85°C.
APPLICATIONS
Digital imaging systems
Digital X-rays
Computed tomography
IR cameras
MRI gradient control
High speed data acquisition
Spectroscopy
Test equipment
FEATURES and BENEFITS
Throughput: 5 MSPS
18-bit resolution with no missing codes
SNR 99 dB
INL +/-0.8 LSB
DNL +/-0.5 LSB
True differential analog input voltage range: ±4.096 V or ±5 V
Low power dissipation (39 mW)
SAR architecture
External reference options
Serial LVDS interface
32-lead, 5mm × 5mm LFCSP (QFN)
See datasheet for more details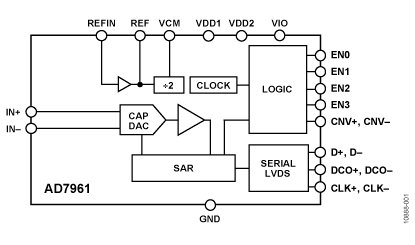 Analog Devices is claiming a first, with an 18bit successive approximation (SAR) ADC that can hit 5Msample/s – said to be twice as fast as anyone else's.
"With its industry leading throughput, best-in-class noise floor and high linearity, the AD7960 was designed for low-power signal chains, multiplexed systems such as digital X-ray, and oversampling applications including spectroscopy, MRI gradient control and gas chromatography," said the firm.
The figures are:
22.4nV/√Hz noise floor relative to its full scale input
+/-0.8 LSB INL dc linearity
99dB signal to noise ratio.
39mW consumption at 5Msample/s.
– See more at: http://www.electronicsweekly.com/news/components/analogue-and-discretes/fastest-18-bit-sar-adc-unveiled-2013-09/#sthash.VhuCfEEJ.dpuf
Project Ratings:
Related posts