ARM has added to its CoreLink Cache Coherent Network (CCN) SoC interconnects, which deliver a flexible architecture from sensors to servers.
The CoreLink CCN-502 and CoreLink CCN-512 interconnects extend the current family for data center and infrastructure equipment that scales from the edge of the network to the core.
"Our new interconnects build on a common architecture, scaling from high efficiency Power-over-Ethernet wireless access points, to high compute density 48-core solutions," says ARM's James McNiven.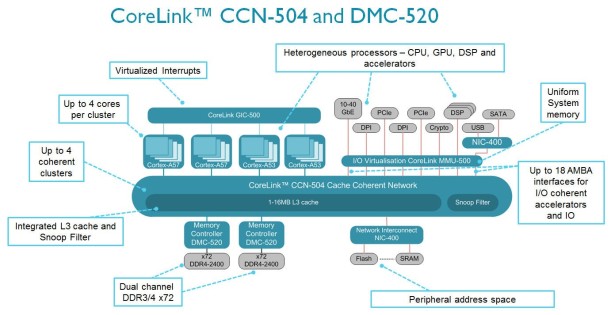 The entire family of CoreLink CCN interconnects offer enterprise-class features such as RAS, ECC and advanced QoS to address a wide range of infrastructure SoCs ranging from 1 to 48-cores of CPU that can be coupled with a variety of heterogeneous compute elements.
All CoreLink CCN interconnects include native ARM AMBA 5 CHI interfaces providing high frequency, non-blocking data transfers and an integrated Level 3 Cache and Snoop Filter.
CoreLink CCN-502 is an area-optimized interconnect for up to four quad-core processor clusters, offering the most cost and power-efficient solution in the CoreLink CCN family. Applications may include small cell base stations and sub-10W Power-over-Ethernet wireless access points.
Key benefits and features of the CoreLink CCN-502 include:
·         70% area reduction over CoreLink CCN-504 at 1MB
·         Optional, integrated Level 3 System Cache configurable up to 8MB
·         High frequency, high performance interconnect supporting up to 0.8Tb/s sustained bandwidth
·         1 to 4 processor clusters including ARM Cortex®-A53 and Cortex-A57 processors with AMBA 5 CHI
·         1 to 4 channels of DDR3/4 memory with DMC-520 supporting 72-bit ECC DIMMs
·         Up to 9 1/O coherent ports with AMBA 4 AX14/ACE-Lite interfaces in addition to CPU and DMC ports
The CoreLink CCN-512 is the highest performance solution in the CoreLink CCN family and offers partners the ability to create dense, 48-core heterogeneous compute solutions with mix of CPUs, DSPs and accelerators and bandwidths up to 1.8 terabits per second.
For more detail: ARM adds to CoreLink SoC interconnects