Analogue TV still huge for chip makers
The Si2178/58/48/38/28 is Silicon Labs' fourth-generation hybrid TV tuner family supporting all worldwide terrestrial and cable TV standards. Requiring no external balun, SAW filters, wirewound inductors or LNAs, the Si21x8 offers the lowest-cost BOM for analog, digital and hybrid TV tuners, with or without a demodulator. Also included are an integrated power-on reset circuit and an option for single power supply operation.
As with prior generation Silicon Labs TV tuners, the Si21x8 maintains very high linearity and low noise to deliver superior picture quality and a higher number of received stations than other silicon tuners and discrete MOPLL-based tuners.
Features
Worldwide TV tuner

Analog TV: NTSC, PAL/SECAM
Digital TV: ATSC/QAM, DVBT2/T/C2/C, ISDB-T/C, DTMB
42-1002 MHz frequency range (Si2178/58/48/38)

Analog TV demodulator (Si2178/38)

Superior video SNR performance
Overmodulation and ICPM tolerant

Industry-leading margin to A/74, NorDig, DTG, ARIB, EN55020, OpenCable™
Lowest BOM for a TV tuner

No balun at RF input
Integrated tracking filters requiring no external inductors or SAW filters
Increased ESD protection

Best-in-class real-world reception

Exceeds MOPLL-based tuners
Lowest phase noise
High Wi-Fi and LTE immunity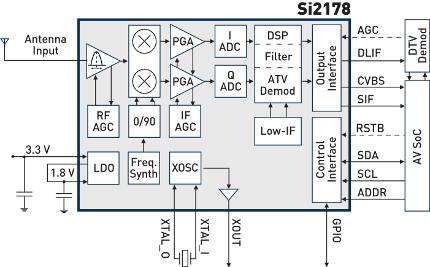 Silicon Labs showed continuing support for analogue TV standards, as it announced a family of hybrid TV tuners.
The family covers just about every combination of digital reception, analogue reception, and analogue demodulation – all in the same pin-compatible 4x4mm QFN-28.
"Although a few countries have successfully switched to digital-only broadcasts, more than 95% of today's TVs must continue to support analogue broadcast reception," said SiLabs. "In addition, analogue-only TVs prevalent in China, India and Southeast Asia represent about 20% of the global TV market. For these regions, analogue TV tuners often require a high tolerance to non-standard analogue TV signal conditions.
There is close competition in the TV tuner market between SiLabs, NXP, MaxLinear and Sony.
For more read: Analogue TV still huge for chip makers
Project Ratings:
Related posts