Advantech (2395.TW), a leading global provider of IoT systems and embedded platforms, is pleased to announce the latest 3.5" SBC MIO-5373 based on the 8th Gen. Intel Core platform with low-power SoC. Featuring compact 146 x 102mm dimensions, the MIO-5373 design not only offers impressive I/O functionality but also provides domain-focused features like CANBus and wide-ranging power input. It is ideally suited for use in application fields like medical equipment, automation control systems, outdoor kiosks, and areas requiring small-size adoption with Intel Core-level computing performance.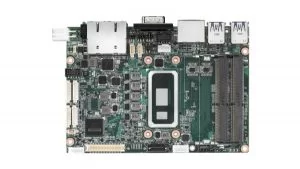 Quad-Core Performance and High Speed NVMe x4
The new 8th Gen. Intel Core low-power SoC (codename: Whiskey Lake-U) is the first generation to double the computing cores from dual to quad. This new generation provides double the computing performance with 15W power consumption. Featuring a built-in Gen9LP graphics engine, MIO-5373 supports three simultaneous displays through LVDS/eDP, HDMI, and DisplayPort interfaces up to 4K resolution, as well as H.265/HEVC, H.264/AVC, MPEG2 hardware decode/encode. Dual channel DDR4 supports up to 32GB/64GB* and the M.2 M-Key 2280 NVMe x4 supports high-speed PCIe SSDs to provide an extremely high data rate for computing and storage. Enhancing overall system performance—rather than just that of the core processor—makes it well-suited for image processing in medical applications and heavy loading content kiosk displays.
Domain-Focused I/O and Flexible Expansion
MIO-5373's built-in iManager3.0 is based on Advantech's EIO-201 embedded controller which integrates power sequence control for higher reliability and generic functions including GPIO, hardware monitoring, smart fan control, and watchdog timer. It also has domain-focused features like high-speed RS-232/422/485 up to 1Mbps, I2C (100kb/400kb/1Mb), and CANBus. iManager provides I/O functionality in company with drivers and software APIs on both the Windows and Linux operating systems to make it easier for software development. MIO-5373 provides adequate expansion for a variety of function cards, including: M.2 E-Key for WiFi+BT, or AI acceleration card; M.2 B-Key for 3G/LTE modules, or SATA SSD; and M.2 M-key NVMex4 with optional SATA SSD. What's more, Advantech's MIO Extension interface provides 4 x PCIe x1/USB/LPC/SMBus slots for vertically-focused or customized expansion. The MIOe-260 I/O module provides an additional 2 x GbE, 8 x UART, 4 x USB, and 2 x CANBus with isolation, miniPCIe socket, and a M.2 B-key socket. Together with MIO-5373 and MIOe-260, it enables factory automation processes for AGV, CNC machines, and medical equipment I/O requirements.
Read more: ADVANTECH RELEASES HIGH-PERFORMANCE 3.5" SBC MIO-5373 WITH 8TH GEN. INTEL® CORE™ PROCESSORS