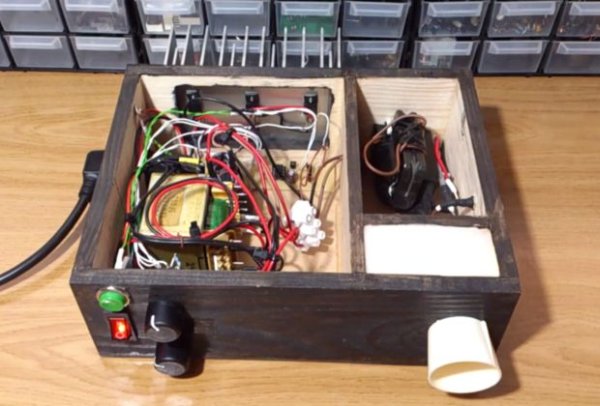 DISCLAIMER:
This is an extremely dangerous project, and it should only be attempted by people with experience in electronics, and specifically, High Voltage. If it's your first time seek help for your own safety.
Homemade High Voltage supplies are unlikely to meet any international standards, the safety and correct operation is NOT guaranteed at all, and will depend on the skill level of the builder, the effort put into it and most importantly, the common sense.
This is not intended to be a tutorial on how to build a high voltage PSU, I only intend to show how I built it. This PSU has been built according to my criteria, and it can be useful if you're looking for inspiration, but I discourage anybody who wants to replicate it blindly without applying his/her own common sense. I'm not an expert on the subject.
I'm not responsible for any damage or injuries caused by the use of this information.
Please, be extremely careful with High Voltage.
Step 1: Intro:
 This high voltage power supply has been designed to output a fixed voltage of around 50kV, it could easily be converted to an adjustable supply by connecting a variac in case of using transformers or by adding some extra circuitry to regulate the power going in. I initially thought about a high frequency PWM to regulate the power going into the capacitors, but I abandoned the idea. I found that adjusting the frequency is enough to make the voltage vary by a significant amount, allowing some control over it, this happens because the flyback must operate at a certain frequency in order to maximize the output.
The total cost of building it is around 10 to 15€ since most of the parts (transformer, bridge rectifier, heatsink, flyback, switch, connector, cables…) have been salvaged, the only parts that I bought are the components of the 555 driver, the connectors and the capacitors. This shows the importance of having a big pile of electronic junk, specially old stuff with chunky electric and electronic components, it doesn't matters if you have to pick it from the dumpster, it can save you tons of money on the long run and by repurposing these devices you're being Eco-friendly. A good practice it to save the tin when desoldering and avoid throwing it into the trashcan and when you're done with the board or there are no more valuable components you can take it to a place where it can be recycled properly.
Caution has been taken in order to isolate the high voltage output from the user and the internal circuitry.
For more detail: 50,000V High Voltage Power Supply